Category: The Mick
I've added 4 episodic stills from the upcoming episode of The Mick titled The Balloon, airing tonight on Fox!
Every week, the cast and crew of Fox's The Mick — the new comedy series that follows Kaitlin Olson's reckless Mackenzie "Mickey," who's tasked with caring for her on-the-lam sister's three children — is taking EW behind the scenes of the latest episode. This week, Sofia Black-D'Elia takes us inside the fourth episode, "The Buffer."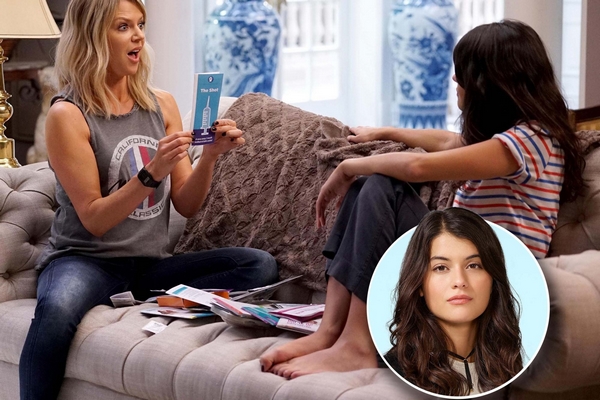 Mickey (Kaitlin Olson) doesn't want the 17-year-old Sabrina (Sofia Black-D'Elia) to get pregnant, so she comes home with a straightforward solution: a bag of birth control options, ranging from a vaginal ring to an IUD.
"There was a moment where [Olson] and I were trying to make an IUD funny where I said to her, 'This is pretty cool that you and I are sitting on a couch talking about an IUD on network television,'" Black-D'Elia recalls. "There was something that felt special about that to me."
Part of what made it feel special is that it reminded Black-D'Elia of real-life conversations she had with her mother as a teen. When she read this script, she was "cracking up at how truthful" it was.
"[Contraceptives] all do kind of suck, and we have to pick one, and I remember thinking, 'Why can't a guy have to get something shoved up his a–?'" Black-D'Elia laughs.
Her character agrees. Sabrina is resistant to any form of birth control — including condoms — throughout the episode. That wouldn't be such a problem if she wasn't so… active: Sabrina and boyfriend Kai (Andy Favreau) spend much of the episode being affectionate with each other. Like, really affectionate.
"Making out that much in front of kids is really weird," Black-D'Elia says. "I remember turning around and seeing the look on Jack Stanton's face, who plays Ben, and thinking, this is one of the weirdest f—ing things I've ever done as an actor."
But she's not too worried about setting a bad example for the young Stanton. "I definitely felt like this is not going to be the thing that corrupts him on this show," she laughs. "But, yeah, it definitely just felt weird."
The Mick airs Tuesdays at 8:30 p.m. ET on Fox.
Sofia attended the 2017 Winter Television Critics Association Press Tour at Langham Hotel on January 11, 2017 in Pasadena. I have added 27 photos from this event to the gallery + 4 new portraits.
GALLERY LINKS
Public Appearances > 2017 > Winter TCA Tour (January 11, 2017)
Photoshoots > 2017 > Session #001
That makes a total of 17 for the Kaitlin Olson comedy, boosted by a strong premiere.
Fox is hot on The Mick. In a rare move with a midseason show, the network has upped the comedy's freshman order to 17 episodes.
The additional four episodes follow The Mick's strong Jan. 1 premiere. With live-plus-seven day ratings now in for the post-NFL bow, it ranks as the season's top comedy debut among adults 18-49 and Fox's best live-action half-hour to launch since New Girl in 2011.
Fox announced the news at Wednesday's meeting of the Television Critics Association. It comes just 10 days — and three episodes — after The Mick kicked off. On Tuesdays, in its regular slot, the show has now twice built on its New Girl lead-in.
The Mick comes from Dana Walden's and Gary Newman's own studio, 20th Century Fox Television, and was created by It's Always Sunny in Philadelphia scribes John and Dave Chernin. Always Sunny star Kaitlin Olson is pulling double duty as lead on The Mick.
"We shoot Sunny in little over two months, so this show would never butt up against that," Olson said during a panel later that morning, adding that it did feel different to be the lead instead of just the only female in an ensemble. "I'm so grateful to Fox because they promised to help us make the show that we wanted to make. I'm extremely flattered and honored."